---
"The art of making music is a healing process; a remodeling of the inner walls of the heart. It is a coming into oneself; a restorative masterpiece."
---
---
ABOUT ANJ
Anj Granieri is an award winning singer-songwriter, pianist, poet, actress, playwright, and composer from Atlantic City, NJ.
---
Over the past ten years, Anj has crafted a multi-faceted career, creating music for the CW Network, "The Oprah Winfrey Show", and others.
Her work has been featured on albums alongside artists such as Amy Winehouse. Anj has been featured most prominently in the TriState area, performing at high-rollers lounges such as the Borgata, Caesars, Bally's, Showboat and Sugar House Casinos. She has also frequented listening rooms such as WXPN's World Cafe Live, The Tin Angel, House Of Blues, The Brown Room, and Seasons 52 Restaurant. 
---
Anj has also released three original albums and toured nationwide. Her third studio album, "The Giant Unquiet", was crowd funded through Kickstarter. Anj's fans donated an impressive $15,400, allowing her to release her conceptual masterpiece in January of 2014.
In 2010 Anj starred in autobiographical one-woman play, "Casual World/Intimate Heart",telling the story of how she found her voice in the world through music.
---
In 2013, Anj's life took a massive turn when her bandmate and life-long friend suffered a traumatic brain injury, rendering him incapable of ever playing music again. She ceased to write any original music for 5 years. In 2018, she returned to her passion by releasing a Christmas album of her favorite holiday music, which featured a new original song "Evergreen." That song went on to win the "Great American Song Contest" in 2019. 
---
Lastly, in 2017, as part of the rebirth and healing process, Anj bought and began restoring a 1974 Argosy Airstream into a future tour vehicle and mobile home. She currently blogs about her journey to health, happiness and creating again at "catch-the-joybug.com", where she also shares her travel adventures, poetry and music. 
---
ACHIEVEMENTS
---
Produced "The Giant Unquiet" with Grammy-Award-Winning producer, Otto D'Agnolo (2012-2013)

---

Completed "Portrait in Ivory", a bi-coastal tour of 48 house concerts (2012-2013)

---

Winner of "Rising Star" Open Mic at the World Cafe in Philadelphia (2009)

---

Grand Prize Winner of John Legend's "Be Legendary" Contest (2009)
"Former Stranger" Featured on a compilation with Amy Winehouse (2008)

---

Semi-Finalist in the Independent Music World Series Competition (2008)

---

Two Time Winning Artist of the "Song of the Month" at Ourstage.com (2008)

---

Instrumental Finalist in "VH1 Song of the Year Contest" for "The End of Love" (2007)

---
UPCOMING EVENTS
---
No upcoming shows scheduled
PRESS
"For most of history, artists with an idea for a project had to find a company or a patron willing to fund their creative endeavors. But, thanks to the Internet, artists can now see their dreams fulfilled with money from fans who believe in them…."
Press of Atlantic City
"By any standard, Anj Granieri has had a good year…"
Press of Atlantic City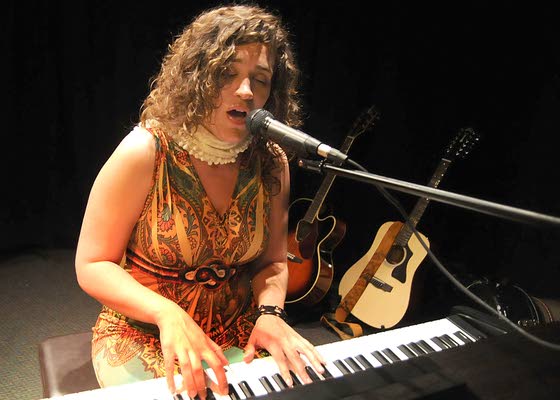 "Somers Point native Andrea Granieri (stage name: Anj) is an accomplished musician…"
Press of Atlantic City
"Anj may be one of the more enigmatic singer/songwriters in popular music…"
Wildy's World
On November 8, 2013, just weeks shy of the release of Anj's much awaited album, "The Giant Unquiet", her bandmate, boyfriend and co-producer Patrick Sheeran was struck by car while walking home at night. 
---
He sustained a severe traumatic brain injury and suffered a post-traumatic stroke.This caused the direction of Anj's life to take a sharp turn, as she became a full-time caregiver. Patrick was in a coma for 11 days, and when he awoke he had to relearn the most basic tasks we take for granted; breathing on his own, speaking, eating, following commands, and walking, as well as higher functioning skills which are still an ongoing process . For the past year and a half, Anj and Patrick have been tirelessly working on his healing, as recovery from TBI is arduous and long. Their dream is to make music together again, and Patrick is working to relearn drums and music theory. In 2015, Anj and Patrick began co-authoring a blog about TBI, to help spread awareness. In March of 2015, they began a You Tube Channel, featuring 30 videos in 30 days to help promote Brain Injury Awareness Month.
---
---
In 2012, Anj found harmony between the theatrics of the stage and the intimacy of a concert by beginning to perform concerts in people's homes.
---
She embarked upon an "East Meets West" tour with Alaskan artist, Karrie Pavish Anderson. The women completed a bi-coastal tour of 48 shows in fans homes, during which they couch-surfed together for entirety of the tour, staying with concert hosts and deepening relationships with fans. "House Concerts allow music to be experienced as it was meant to;" Anj reflected, "raw, organic, intimate and honest." This tour sparked a new love for Anj, and today she does at least one house concert a month.
In 2010, Anj flexed her theatrical muscles in an auto-biographical one-woman play entitled "Casual World/Intimate Heart".
---
Weaving comedy, poetry, visuals and monologue around her performances of songs on a baby-grand piano, the play ran for two weeks at a fringe festival in Philadelphia. The one hour performance took the audience on a journey through the genesis of individual songs, as well as the challenging events that led her to writing music as a young girl. The message of the play was to show how music can be a freeing agent for those in emotional pain, such as hyper-sensitive artists living in a calloused world.
CONTACT
Contact Anj about booking for concerts and events
---